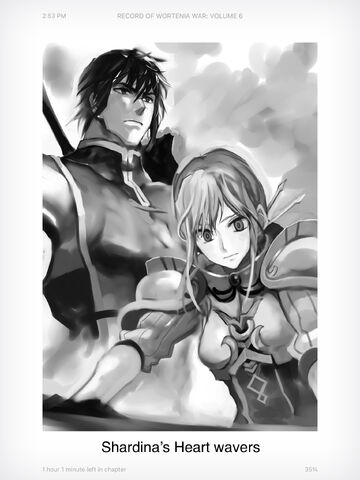 Hello, I first came across this series in Web Novel format, quickly picking up the manga, and eventually the Light Novel. I have to say the Light Novel is a lot better with all the additions the Author has made. I don't know if it's the fact I've already read through most of it once, or my own curiosity, but I always wanted to know most about the people Ryouma left behind. I made various things head canon. Don't worry, those won't be showing up here in the articles. The changes in the light novels tho seem to be moving in the direction I expected… or similarity anyways.
When it comes to managing a wikia, I'm not so much on the technical, While chatting and building the community itself seems more my style, I also have a love for the minutia, the things others might not find useful. Maybe it's the fanfic writer in me that wants so many things noted in ways like the Wortenia Senki Timeline page…
When J-Novel.club licensed the series I was estatic… and then I realized, dumbfounded that it would be months before I'd read the series again.
Why you might ask? You just have to look at the first lines of my profile above. I'm a reading addict in the most purest form. I can spend 12-18 hours a day with my nose in one book or another until I'm at the end, or at least where the author has forced me to rest. I don't know if it's genetic but my mothers the same way… so I eargerly waited for when the would catch up approximately to where the seems to have stumbled.
Definitely a good thing, being able to marathon a good read.
Now… who wants to help me build this community?

I love reading and starting wikia's for said books.
I am currently finishing up (on j-novel membership access)
Seirei Gensouki: Spirit Chronicles
Record of Wortenia War
How a Realist Hero Rebuilt the Kingdom
Arifureta: From Commonplace to World's Strongest
Fushi no Kami: Rebuilding Civilization Starts With a Village
Arifureta: From Commonplace to World's Strongest
On my TODO Read list at JNC
By the Grace of the Gods
The Ideal Sponger Life
In Another World With My Smartphone
[New Life+] Young Again in Another World (No longer for sale/Cancelled/Dropped)
Ascendance of a Bookworm
Isekai Rebuilding Project
The White Cat's Revenge as Plotted from the Dragon King's Lap
Black Summoner
There Was No Secret Evil-Fighting Organization (srsly?!), So I Made One MYSELF!
Me, a Genius? I Was Reborn into Another World and I Think They've Got the Wrong Idea!
Lazy Dungeon Master
The Magic in this Other World is Too Far Behind!
How NOT to Summon a Demon Lord
My WILD list (NovelUpdates) is here
Wikia's on fandom.com that I frequently administrate or moderate on are...
Other fandom Wikia's I can be found contributing on are...

Just a link for projects you've worked on here.